Address
2F, Sun City, No. 299 Hengfeng Rd., Jing'an District, Shanghai 200070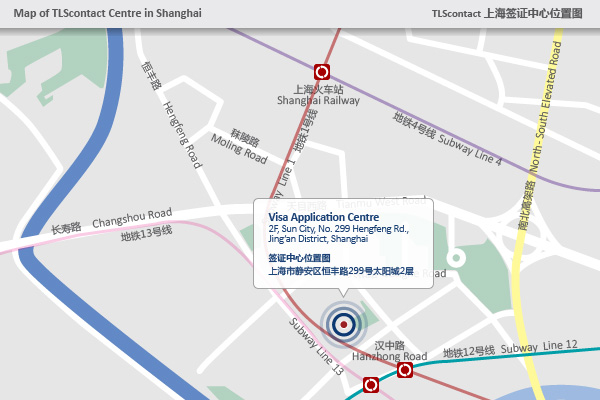 From 8:30 to 16:30 / Monday to Friday
How to get here?
By Subway
Line 1, 12 and 13 Han Zhong Road Station, Exit 1, go accross Hanzhong Road and reach at the main gate of Sun City.
By Bus / Trolleybus
Bus lines no. 41, 64, 104, 109, 128, 741, 801, 845, 927, 955, 234, 301, 324 (at Hengfeng Road - Hanzhong Road station).
By Car
From North to South: Arrive at the intersection of Heng Feng Road and Gong He Road, turn left and then turn right at first light to Min Li Road. Go straight ahead for 20 meters to the entrance of underground parking or building lobby on the right hand.
From South to North: Arrive at the intersection of Heng Feng Road and Han Zhong Road, turn right and then left at first light to Min Li Road, go straight ahead for 50 meters till the entrance of underground parking on the left hand.
SPECIAL NOTICE:
All visitors must go through security check. Unauthorized representative or intermediary is not permitted to enter visa center.
[VISA APPLICATION SUBMISSION]
Please have your application file ready in advance (appointment confirmation sheet, passport and complete supporting documents).
If you go through a travel agency or an intermediary to prepare your application, please make sure to obtain your file before entering the Visa Application Center.
 [PASSPORT RETURN]
Please prepare in advance all the required documents for picking up passports listed on [Visa Application Checklist] that you obtained upon submission of visa application.
Passport is an important personal identity document. In case of absence or incomplete documents, Visa center is not permitted to deliver your passport.